Editorials
---
Guest Column: Walden is working for us?
Guest Column: We've waited long enough for things to change
Over the last 10 years I have contacted Rep. Greg Walden's office three times.
All I received in response were two generic form letters stating the congressman's position with no indication that anyone cared what I thought.
Lest you think this is normal for a busy congressman, my experience differs.
When I lived in Massachusetts, a letter to Sen. Ted Kennedy elicited a personal letter from the senator himself.
When I lived in California, Rep. Bob Lagomarsino voluntarily carried a testimonial letter I wrote to a House hearing.
Walden's disappointing responses indicate he is less interested in listening to his constituents than in promoting his own agenda.
Health care provides a good example of this.
The Oregon Health Plan, part of the Affordable Care Act (ACA), provided health insurance for many of my neighbors who couldn't otherwise afford coverage.
Most of these people are associated with farming and ranching, hazardous professions in which one serious injury without insurance can mean financial disaster for the small families that run many of the agricultural operations in the 2nd Congressional District.
Walden was the primary author of the GOP health care plan that would have killed the ACA and, by the Congressional Budget Office's calculations, caused over 64,000 (8 percent) of Walden's constituents to lose health insurance.
This effort failed, but one wonders why our representative would even try to do this.
And to this day he ardently supports legislation that would undermine the insurance people acquired under the ACA without proposing any worthwhile replacement.
Another action Walden has taken that is an affront to his constituency is his use of connections and power in Washington, D.C., to cause the pardoning of two ranchers, who were convicted by a jury of arson on public land in an effort to conceal their slaughter of a herd of deer, according to court documents.
What signal is Walden sending here?
That arson is OK on public land?
That the law doesn't apply to certain people?
That politics trumps the rule of law?
While there maybe a minority of people in the 2nd District that applaud Walden's action, most of the people I know here are honest and law respecting, and I don't think any of these "explanations" reflect their values.
Everyone in Oregon has been affected by intensifying wildfires. It's ironic that, having used his political clout to condone arson, Walden now expediently proposes on his webpage to prevent wildfires with "better … management" of our "overstocked forests," code for opening our forests to massive cutting.
This would please the lumber industry, which (according to the Center for Responsive Politics) has donated over $900,000 to Walden's campaigns.
But to claim "better forest management" will solve the escalating wildfire problem ignores the facts that huge increases in wildfires have occurred simultaneously in all Western states and in countries around the world, regardless of forest management practices, and that many devastating fires have not occurred in forests at all.
The strong consensus among climate scientists and ecologists is that climate change is driving the worldwide increase in wildfires, and they predicted this over 40 years ago.
Agriculture is extremely vulnerable to climate change.
Yet many of my neighbors employed in agriculture have had difficulty recognizing human induced climate change as a fact, because data that demonstrates this have not been readily accessible to them.
But Walden, as chair of the House Committee on Energy and Commerce, has had the best science and scientists at his fingertips.
Thus, he has had the opportunity and responsibility to interpret for us the best science with fidelity and to make decisions based on sound evidence.
Instead, he has ignored science and perpetrated the alternative myths that climate change is not real, or it is unrelated to human activities.
Walden has voted on approximately 164 measures that would either directly curb or accelerate climate change (data from League of Conservation Voters).
In 11 of these he voted to curb. In 153 he voted to accelerate.
Worse, he has failed us as a leader.
Instead of leading, to our detriment he has chosen to mislead.
These are indicators of being in office too long.
Walden's political ambitions have displaced his interest in doing what is best for his constituents.
I know little about Walden's opponent, Jamie McLeod-Skinner, but two things are readily apparent.
She is well qualified for this office, and if she upends such an entrenched politician as Walden, she will pay a lot more attention to her constituents than he has.
— Bruce Mahall lives in Silver Lake.
---
Over the past 15 months, I have traveled throughout our district, meeting with folks across the political spectrum to talk about their hopes and concerns. Regardless of party affiliation, we all want our loved ones to have health care when they need it, want our kids to have opportunities, and want our veterans to get the care they've earned. We can be proud that the people of our district are generous, hard-working, and welcoming.
But those common needs and values are not being addressed in Washington DC. Our current representative no longer votes in our interest. After 20 years, we're worse off. It's time for a change.
Making health care accessible and affordable is a top priority for our communities. Over half of the people in our district rely on some kind of government-funded program for their health care. While the Affordable Care Act (ACA) isn't perfect, chipping away at it and destabilizing the insurance market isn't the answer. We need to support our families and small businesses by fixing the system and controlling the cost of pharmaceuticals.
Greg Walden voted to repeal or defund the ACA, in part or in its entirety, over 50 times. He was one of the main architects of the attempt to repeal the ACA last year, without a viable alternative. Had he been successful, one-in-five people in our district would have lost their health coverage.
Pre-existing conditions must remain covered. An estimated 27 oercent of adults in Oregon under the age of 65 would be uninsurable without these protections (according to the Kaiser Family Foundation), and 64 percent of our farmers and ranchers (per a USDA study) have pre-existing conditions. Our current representative voted to take away these protections.
That's not right.
In the past 20 years, 4,500 Oregonians have died from an overdose on opioids. While I applaud the recent small steps taken, public health officials have said it's not a solution. Why hasn't our current representative done more? As the chair of the House Energy and Commerce Committee, which oversees the health care industry, Greg Walden has accepted $26,000 from pharmaceutical companies just in this election cycle, and over $1 million in contributions from pharmaceutical and health products companies in his career. They are the ones that helped create the problem.
Can we trust a representative who takes so much money from Big Pharma to once and for all solve this major health crisis impacting our communities?
Our veterans' healthcare system is broken. The three major VA medical centers that serve the veterans of our district are among the lowest rated in the country. They are overworked and underfunded. When veterans do get care, they tell me it's good care. But it shouldn't take multiple calls to your Congressional representative to get an appointment with your doctor. While some of Greg Walden's efforts have made small, incremental changes (like bringing in scribes to take notes for doctors) they're not enough. We must improve access and care for the veterans of our district.
We are successful when we work together. I support models like Better Together—a collaboration between government and locally-managed organizations to improve educational outcomes for youth. Government needs to know when to help—and when to get out of the way. I support more programs like this one—such as providing an exchange of public service for college education or trade school—to improve lives in our district.
Economic development is critical to strengthening our communities. We need to invest in infrastructure, with more rural broadband so people have access to tele-health and online learning. We can create good jobs in sectors like sustainable forestry and renewable energy. The national economy may be on the upswing, but our district hasn't recovered from the 2008 recession. Almost half of the people in our district live at or near the poverty line. Ten years is long enough to wait for positive change.
We've waited long enough for things to improve. It's time to bring to our district real change for the better.
— Jamie McLeod-Skinner is the Democratic candidate for the Second Congressional District seat now held by Republican Greg Walden.
---
Editor's Notebook: Missing in person, Walden's silent consent no friend to Hood River
Ballots are due by Nov. 6. Statistically, many voters have cast their ballots already.
For undecideds who have not yet cast their ballots for the Nov. 6 election, there is time still to consider a vote for Jamie McLeod-Skinner, the Terrebonne Democrat challenging Republican Greg Walden, 18-year Congressional veteran.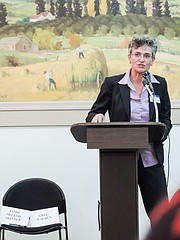 She has ideas and energy, has clearly listened to the people of Dist. 2 in her thousands of miles of travels in the past two years, and will be a quick study once elected. She brings a level of compassion that has been missing in Dist. 2 leadership in recent years.
Walden is a good man but, in recent years, he has repeatedly shown his dedication foremost to his party. Walden has been a virtual stranger to anyone who is not a partisan supporter or donor to his campaign. He put a revisionist "town hall" tag on a February gathering in Condon that was intended as a private meeting until locals got wind of his presence and forced him to hold a public meeting.
(So much for public notification; the local newspaper was not even informed.)
He sends out numerous press releases about pending, and sometimes completed, legislation and invites the media to events of his choosing, but ignores just about anything else — including attempts by constituents to contact him.
While he has accomplished good things (and the opioid legislation signed into law this week is one recent example of that) it feels like Walden has forgotten who he really works for.
It is instructive to look at what the Congressman said he would do, and then did not do, on April 8, 2017, the last time he held a town hall meeting in Hood River County.
True, it turned out to be a raucous event, fueled largely by Walden's repeated unwillingness to answer direct questions. People responded, often loudly, and now his supporters point to the "unfair treatment" as justification for avoiding public appearances where he should stand as a man and a leader and hear what people have to say. Writers of at least two of the newspaper endorsements for Walden serve as apologists for Walden breaking his yearly-town-hall vow, citing the harsh audience response to Walden's evasive, obfuscative responses.
At that April 2017 town hall, Walden stood in front of hundreds of people at Hood River Middle School and vowed not only to hold another town hall in 2018 (none has been scheduled) but when citizens presented him a box of letters about immigration reform, he said, "We will read these and respond."
We have no way of knowing if Walden read or responded to the letters, but we know that he never responded to the group that sponsored the box; an Indivisible Hood River spokeswoman confirmed Thursday they never heard from him.
It's sadly in line with what many constituents in Hood River County report is a pattern: Telephone calls and emails that go unanswered and ignored.
We have heard it dozens of times for years. I've mentioned this directly to Walden and his reaction was a combination of confusion and unconcern.
Most recently, Walden' office ignored repeated contacts from Gorge Ecumenical Ministry to attend its Oct. 16 forum in Hood River. As reported in the Hood River News, Walden's office cited a scheduling commitment in Klamath Falls that day, but the more cogent fact is that neither Walden, nor his employees, bothered to answer emails and a posted letter asking him to attend. What we have is a community group, acting in good faith, denied the courtesy of a response to varied communications asking the Congressman to show up.
The Hood River News itself has experienced a pattern of non-response stretching at least three years; until this week, the only time Walden has responded to a request to talk to a reporter in the past two years was in April 2018, when this newspaper was invited to a drug take-back day event — in White Salmon, Wash.
Walden reacted angrily when he was asked at that event if the fact he had not scheduled a 2018 town hall in Hood River was a reflection of his belief that Hood River County was electorally non-winnable for him.
"Ohhh, Kirby. Really?" he said, walking away and effectively ending the interview. Eight months later, despite repeated requests from the media and constituents, still no town hall. If Walden is that thin-skinned about being asked about what is a standard political strategy — focus your energy and money on keeping the votes you know you have — how sensitive is he to criticism in general?
Until Wednesday, Walden's office did not respond to repeated requests, beginning in September, for a one-on-one interview with this newspaper; the interview was intended to take place in a timely manner with the election campaign. (McLeod-Skinner spoke with Hood River News on Oct. 11.) The latest request came Wednesday, directly on the heels of a telephone conference call this newspaper attended, at Walden's invitation. Walden will not be available to talk until Nov. 1, five days before the election.
Notably, in trying to depict himself as open and accessible, Walden cites the infrequent telephone town halls as an example of his hearing from the community; while these calls are certainly a positive thing, they are closed-circuit events you have to call into and stay on the line.
Further, in 2017 Walden bragged that he is "in the room" with President Trump, implying that he might have some influence on the then-new president, but it is clear after nearly two years of the Trump administration that Walden is unwilling to stand up to the president, to the point of crafting legislation that even Trump called "mean," the dismantling of the Affordable Care Act. Walden is proud of that accomplishment, rather like a chef who cooked the roast to point of burning it.
"Silence is consent," goes the phrase urging voters to cast their ballots. Walden has been virtually silent to Hood River constituents, and has provided this caustic and unprincipled president unwavering, uncritical consent.
In this reporter's opinion, that flies in the face of the wishes and feelings of Hood River County residents.
---
Opinion: Vote Jamie McLeod-Skinner For U.S. Rep., 2nd District
Congressional District 2 is nothing if not a vast, disparate district. Its constituents range from the ranchers of eastern Oregon, to the Valley dwellers of Medford, to the outdoor enthusiasts of Hood River and Bend. It's a district that's long been represented in the U.S. House of Representatives by Greg Walden (R, Hood River)—but "representative" is perhaps too loose a term for Walden's tenure. Greg Walden, in office since 1998, has proved himself to be a partisan politician who seems to care less about truly representing his district, and more about toeing the party line and pandering to special interests. He has moved against net neutrality, against the Affordable Care Act, and in favor of reducing the Cascades-Siskiyou National Monument, to name just a few items.
While no politician—Democrat, Republican or Independent—will ever truly be able to represent all of their constituents' disparate views, they can at least try.
In her time on the campaign trail, Jamie McLeod-Skinner has done that—traveling countless miles to meet and listen to voters in every corner of her district, and in the process, gaining the support of rural farmers, mayors and city councilors and veterans, among others. It should also be noted that the Independent Party of Oregon has endorsed her over its own candidate in this race.
What voters seem to see in McLeod-Skinner is what we also saw in her when she visited the Source offices—a dedicated professional with the experience, background and passion to bring change to this district, who shows up to listen to what voters want, and then develops well-researched policy to address it.
We cannot say the same for Walden. For example, his campaign has never responded to our requests for an endorsement interview. He has staged a single town hall meeting in Bend over the past several years—done only after enormous pressure from voters in this area. Hundreds packed that event at Mountain View High School—something that would, to a representative who aims to truly represent his district—signal that his constituents want and need to hear from him more often. Yet his more recent visits to Bend are done largely in private. "Where's Walden?" is a common battle cry from his constituents.
Walden has become the type of career politician that voters—city dwellers and rural residents alike—complain about; that politician who leaves for Washington, D.C., and forgets where he came from, and who he represents.
Case in point: Walden's complicity—nay, his outright participation—in seeking to repeal the Affordable Care Act, under the President's directive. As has been widely pointed out, residents of District 2 were insured in larger numbers than in any other district in the state due to the ACA; likewise, voters here would have stood to lose coverage more widely than any other district under its repeal. A representative committed to his constituents over his party would have acted otherwise—and in his role as chair of the House Energy and Commerce Committee, would have used his power there to fight for his constituents. Instead, Walden received a pat on the back from the President for his efforts. The bill he helped co-author cut out protections for pre-existing conditions—something he'd told voters he'd work to preserve. With the executive branch putting health care constantly under attack, you can be assured that if Walden is re-elected, voters will very likely see further cuts to their coverage
Beyond an endorsement against Walden, McLeod-Skinner is experienced and ready to serve. She has a law degree, and has served as a city councilor on the Santa Clara, Calif., City Council and as a city manager for the city of Phoenix, Ore. She also has experience in water resource planning, having worked in Bosnia as a reconstruction and water program manager for the International Rescue Committee.
As a self-described "rural Democrat," McLeod-Skinner takes a balanced approach to issues including gun control, supporting waiting periods before gun sales, universal background checks, and regulating bump stocks, while at the same time being in favor of limiting military assault-style weapons. She's a strong advocate for more resources and advocacy for veterans. She supports a reversal of tariffs that threaten the ability of farmers and ranchers to run a thriving business. She's also in favor of expanding community colleges and offering tuition breaks to graduates who work in public service. We believe her thoughtful, moderate, accessible approach to some of the most pressing issues facing the district make her a strong contender against the entrenched politician that Walden has become. Constituents in this vast district deserve an advocate who is in touch with their needs. Vote Jamie McLeod-Skinner for Congressional District 2.
---